The first time I heard about Terry Smith was on a Sunday morning in 1994. A married couple sitting in the pew behind me told me they had met a person who was like "Jesus with skin."
I desperately needed some Jesus skin. I had just buried my four-month old infant daughter, donated my second daughter's premature and lifeless body to Vanderbilt research, suffered the divorce of my ten-year marriage, and watched my church family in the rearview mirror fade from sight. In the wake of these devastating losses, faith too had waved the white flag and become a prisoner to doubt. Whatever relationships I had with faith—faith in God, faith in family, faith in life, faith in myself—had surrendered to doubt. The thought of meeting a man who wore the skin of Jesus, someone who might restore freedom to the prisoner, gave me impetus to make the fastest, most impulsive decision of my life. I would seek out and get to know this man whom others claimed wore the skin of Jesus.
I have now known Terry Smith for over 23 years. When given the seminary assignment to interview a seasoned minister regarding interpersonal ministry skills, the name Terry Smith was the first name to cross my mind. In many ways, I credit him and his willingness to wear the skin of Jesus as having saved me as well as my family through periods of overwhelming grief. Through Terry, I have a better understanding of how Jesus really saves the world.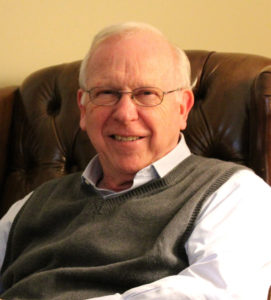 Terry's mother was an alcoholic who abandoned him and his three siblings when he was eight years old. By the time Terry was 12, he had developed survival skills that would accompany him, evolve with him, save him, and get him into trouble over the course of his life: be good, perform to please, and be strong.
In the 15 years following a tumultuous childhood and young adulthood, Terry completed a Master of Theology at the Harding School of Theology. The Vietnam War was daily in the headlines and Terry thought it was his calling to be a military chaplain. When that calling didn't come into fruition, Terry began working toward a Master of Arts in Counseling at Harding while serving as campus minister. He found himself on the unexpected battlefield of college campuses ministering to a different kind of soldier: students who were battling the enemies of alcohol and drug addiction, anger issues (some because of the war), rebellion, and self-identity. While Terry was helping students get in touch with God and other long-lost parts of themselves, God got in touch with Terry. Together, they got in touch with a long-lost part of Terry's self: his mother.
Terry's master's thesis focused on a question that put Jesus to the test: "Does Jesus work on the most broken people?" The most broken person Terry knew was his mother. So in 1968, 18 years after having been abandoned as a child, Terry found his mother. She had since been married five times, was living with a man who was not her husband, and was still battling alcoholism. The resemblance between Terry's mother and the Samaritan woman whom Jesus meets at the well in John 4 was striking. Terry's mother became his case study. Over the next six years as Terry worked on his thesis and journeyed through the story of Jesus and the Samaritan woman with his mother, some of the students and other campus mentors took her in for 14 months. Terry recalls that experience as one of the most significant teaching moments of his life.
Jesus had passed the test.
Upon graduation, Terry moved to Memphis and joined the adjunct faculty at the University of Memphis where he taught biblical studies and served as campus minister at the Highland Church of Christ. After being disciplined for having women pray in small group meetings and allowing African American males to read scripture, Terry left Memphis at the end of five years.
In 1979, Terry (alongside his wife Charlotte and their four daughters) moved to Boston where once again he found himself on the frontline of battle. While working on a doctorate in Personality, Religion, and Culture at Boston University, Terry founded the Resource for Life Center where he began a ten-year ministry of helping disenfranchised people who were burned out or abused by religion. From his years as campus minister, not only had Terry helped his mother, he had helped hundreds of students pick up the shattered pieces of their lives. Terry arrived at Boston University carrying the shattered pieces of his own life and a mission to save the world. His prayer list named 200 people and was growing exponentially. At the end of two years, suffering a full-blown messiah complex, Terry himself was burned out and fearful of mimicking his family pattern of addiction and adultery. He even asked himself whether he wanted to exchange his 40-year-old wife for two 20 year olds.
On a trip to New Mexico, he took a walk to clear his head. In the solitude and majestic beauty of the desert, five little life-altering words popped into Terry's mind:
What do I really want?
The answer was given and received: he wanted to think clearly, walk securely, live boldly, and love faithfully.
In the three years that followed that resolution, Terry would experience a dark night of the soul. He began to read from the Psalms and Proverbs. He began reading authors like Larry Crabb, J. I. Packer's Knowing God, and Merle Jordan's Taking on the Gods and Reclaiming Your Story in which Terry himself appears as the case study of someone who has a messiah complex. He began to see himself like the Apostle Peter who was pursued and still loved by Jesus whom he had stabbed in the back. It was the dark night that brought Terry into the light of truth: God's presence has nothing to do with a person's feelings; God loves broken and messed up people.
In 1989, Terry and his family packed up Boston and returned to Harding University in Searcy, Arkansas where Terry had previously served as campus minister. This time he would be directing a counseling center. After five years, Terry decided he did not want to be a counselor so he and his family packed up and moved to another frontline ministry in Nashville TN: an 1100 member church that was growing leaps and bounds. A leader was needed, someone who could help people experience the love of Jesus and each other in the context of a large community. "The larger we become, the smaller we have to become," became Terry's motto. Although Terry was hired as the leader of small group formation, Terry became mentor, life coach, and "underground minister" for 18 years to a church that would grow to over 2400 people. As the church grew so did its growing pains. Terry became the primary troubleshooter and the man who became like "Jesus with skin."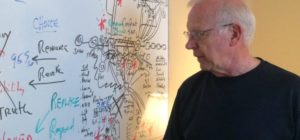 In 2012, Terry branched out on his own, founding a non-profit organization with the mission to help people remove barriers to healthy relationships. Terry describes Coaching Life Matters as "an oasis in the desert of broken relationships, a safe place where people can tell their stories, get in conversation with their stories, and discover that God was in their stories long before they became aware." Terry's primary tools: listening, loving, and a customized version of the genogram.
Terry's resolve to think clearly, walk securely, live boldly, and love faithfully has impacted my life and the lives of countless others in ways that only God and the soul can truly know. How did he do it? How has he survived, and survived well, the battleground of ministry for over 50 years troubleshooting the problems of other people as well as his own? To my way of thinking, it's nothing short of a miracle.
When I asked Terry to describe his 50+ years of ministry in a nutshell, he referred me to a movie.
"Have you seen Hacksaw Ridge?" he asked.
"No," I answered.
"Help me get one more," he said. "Just get one more."
Based on a true story, Hacksaw Ridge is the story of Desmond T. Doss, a young WWII medic who is willing to enlist and go to war on one condition: He refuses to kill. "With the world so set on tearing itself apart," Doss says, "it doesn't seem like such a bad thing to me to wanna put a little bit of it back together. While everybody else is taking life, I'm going to be saving it and that's my way to serve."
Doss goes to military court and is granted the right to go into battle without a weapon. The court's decision, however, does not preclude his fellow soldiers from considering him a coward and abusing him in the barracks at night. When Doss's unit is deployed to the Pacific Theater, they are sent to assist the 96th Infantry in the Battle at Okinawa. Heavy casualties occur, particularly along the Hacksaw Ridge. During the battle, Doss runs into the carnage over and over and over again to "get just one more." Armed with only his desire to save, Doss rescues many of his fellow soldiers and is later awarded the Medal of Honor. To the soldiers whom Doss carried out of harm's way, Doss was Jesus with skin.
I understand why Terry used Doss to sum up his ministry: Terry is a contemporary soldier who insists on saving life rather than taking it. He is a soul medic who has shown up on the battlefield everyday for the past 52 years with one deep down prayer in his heart: "Please Lord, help me get one more." Over and over and over again he rushes back into the carnage of human grief, anger, shame, addiction, and death. Over and over and over again his human, skin-wrapped hands and feet become the hands and feet of Jesus carrying war torn people to the safety of the foxhole. And all the while he's carrying, he reminds people that God is closer to them than the blood running through their veins. His only weapon is love.
Terry will soon turn 75. In the days prior to my interview with Terry regarding his interpersonal skills and how those skills have helped him navigate and survive over 50 years of ministry, I wondered what I might receive from him. I wondered if he would give me an outline or a chart or a set of tools like a made-to-order one-of-a-kind genogram of sorts. What he gave me was a compass, a North Star, a tracking device by which I can always navigate the sea of ministry and find my way home.
"Read the Psalms everyday like it's your mother," Terry wisely counseled. "And read the Proverbs everyday like it's your father."
He scooted to the edge of his wingback chair and leaned toward me. "Focusing on the problem or the human relationship or your own skills will disappoint you. So don't focus on the battlefield," he cautioned; "focus on the One who will carry you through the battlefield, the One who is closer to you than the blood in your veins."
He returned to his relaxed position and a smile crossed his lips.
"Please Lord, help me get one more," he added. "Just get one more."
More about Terry
Delta Blues from Darkness to Light by Terry S. Smith